MicroGreen Growing Kit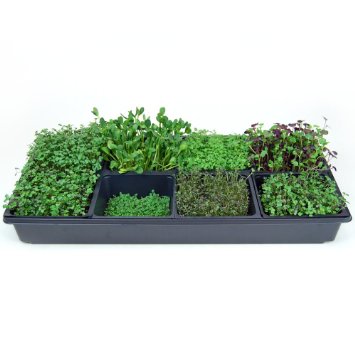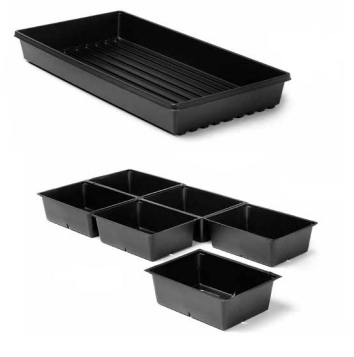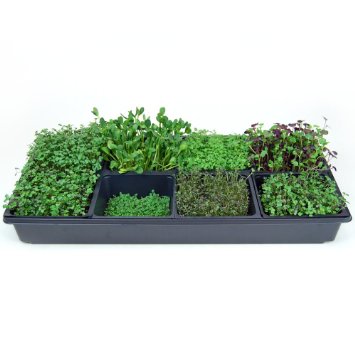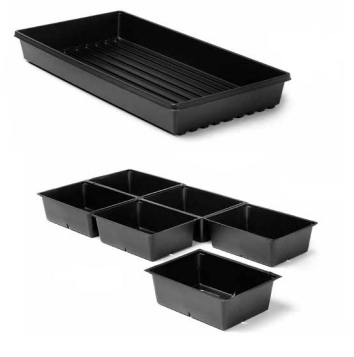 MicroGreen Growing Kit
This MicroGreen Growing Kit comes with everything you need to grow your own super nutritious microgreens no matter how little space you have to work with.
Microgreens are perfect for a beginner gardener because they are harvested as soon as they put on their first true leaves (i.e., you don't have to keep them alive as long as other their mature versions). They may be micro in size, but not in nutrition. Leaves from all ten of the microgreens in this Kit have four to six times more nutrients than their mature leaves of the same plant, including vitamin C, vitamin E, and other phytochemicals.
Includes:
2 Large Plant & Propagation Trays
48 6" x 4" Propagation Trays
pH Test Strip Kit
Mister Spray Bottle
Detailed Instructions
6 Different Types of Seed of Your Selection - scroll down for selection
You can choose up to six different varieties from the seeds below. Some crops are easier to grow than others and are therefore best for first-time microgreen growers. Those crops are indicated below.
Arugula - Organic - GREAT CHOICE FOR FIRST-TIME GROWERS
Basil - Genovese - DELICIOUS CROP
Beet - Detroit Dark Red - BEAUTIFUL DEEP RED COLOR
Broccoli - Di Cicco - Organic - GREAT CHOICE FOR FIRST-TIME GROWERS
Cabbage - Red Acre - STUNNING COLORS & SATISFYING CRUNCH
Cauliflower - Self-Blanche - GREAT CHOICE FOR FIRST-TIME GROWERS
Cilantro - Leisure Splits - GREAT FRESH and CRISP TASTE
Kale - Red Russian - BEAUTIFUL & SUPER NUTRITIOUS
Mustard - Tatsoi - GREAT CHOICE FOR FIRST-TIME GROWERS
Sunflower - Black Oil - ONE OF A KIND TASTE
Growing your own microgreens is a very fun and rewarding experience. You can grow them indoors or out and you only need two square feet of space.
Microgreens can be grown from many, many different types of plants. They are young plants that are older than sprouts but younger than baby greens. Technically, microgreens are plants in the stages of growing both the cotyledon (first set of leaves, also called seed leaves) and the first true leaves. They are harvested after growing for only a short 2 to 3 weeks.
This kit comes with all the materials plus all the knowledge you need to get started on your microgreen growing adventure.
Customers who purchased this product also showed interest in these products...